I'd like to thank all at Cheshire Cat Books for their help and advice. This summer I'm moving to another publisher, Box Kite. All the Kitty Lockwood books will be available through them. This will include the new Kitty Lockwood book, The Hunger of Ravens. I'll give out publishing dates and contacts and places the books can be bought as soon as I know them. All the Lockwood books will be re-issued with new covers.
It is a privilege to be read. We ask readers to trust us : to give us an hour or more of their lives. In a world filled with many distractions, that's a tricky ask. It doesn't matter how beautiful your language: without a story, there is a finite amount of time in which you can hold the attention of your readers. Which is why plot is so important.
A story keeps a reader involved. At the Hearth Arts Centre in Horsley we recently put on an event called Haunted. In the dark days of Northumbrian winter, two superb actors, Stephen Tomlin and Janine Birkett,  read tales of the supernatural. The room was lit only by tea lights and a couple of stage lamps.
As I was involved in promoting the evening I was anxious for it to succeed. But it was soon clear that the  readings were very popular. I watched as the audience bowed their heads as they listened to Stephen and Janine. It was clear they were deeply involved.
It took me back to Ponteland Infants School when a favourite teacher, Mrs Nelson, used to read us a story. Or later in my school days, when another teacher, Mr Copeland, read us stories by Damon Runyan. A story holds us: it helps us forget the stress of everyday life.
But a story  has a particular structure. It's this:-
A story is a character, in pursuit of agoal, who overcomes obstacles of increasing difficulty as they succeed, or fail, to reach that goal.
In the film Billy Elliot the central character wants to succeed as a dancer. We know Billy succeeds because the last scene shows him going onstage at the Royal Ballet. He achieved his goal. In addition, he achieved his dramatic need by being reconciled with his dad, who is in the audience. So he achieved his goal (the thing he wanted) as well as his dramatic need (the thing he didn't know he wanted but which we, the audience, did know.
So your character  should want to do something. If he succeeds it's an up ending. If he  fails it's a down ending.
In either outcome he or she is changed.
Why does this hold our attention?
I think it's a matter of brain chemistry. As writers we deal in two substances:-
Cortisol – the stress hormone – helps us empathise about a character and care abpout their fate.
Oxytocin – the love chemical – is our reward when we follow a character's story and see them survive and succeed.
In telling us a story we first capture our readers by getting them to care about our characters. Once they do, they want to know their fate. Will they succeed in the pursuit of their goal? Or will they fail?
Will they? Or won't they? It's the same question which keeps us glued to a sporting event or a real life drama.
Will they? Or won't they?
'Tis the year's midnight, and it is the day's,
Lucy's, who scarce seven hours herself unmasks;
The sun is spent, and now his flasks
Send forth light squibs, no constant rays;
The world's whole sap is sunk;
The general balm th' hydroptic earth hath drunk,
Whither, as to the bed's feet, life is shrunk,
Dead and interr'd; yet all these seem to laugh,
Compar'd with me, who am their epitaph.
Study me then, you who shall lovers be
At the next world, that is, at the next spring;
For I am every dead thing,
In whom Love wrought new alchemy.
For his art did express
A quintessence even from nothingness,
From dull privations, and lean emptiness;
He ruin'd me, and I am re-begot
Of absence, darkness, death: things which are not.
All others, from all things, draw all that's good,
Life, soul, form, spirit, whence they being have;
I, by Love's limbec, am the grave
Of all that's nothing. Oft a flood
Have we two wept, and so
Drown'd the whole world, us two; oft did we grow
To be two chaoses, when we did show
Care to aught else; and often absences
Withdrew our souls, and made us carcasses.
But I am by her death (which word wrongs her)
Of the first nothing the elixir grown;
Were I a man, that I were one
I needs must know; I should prefer,
If I were any beast,
Some ends, some means; yea plants, yea stones detest,
And love; all, all some properties invest;
If I an ordinary nothing were,
As shadow, a light and body must be here.
But I am none; nor will my sun renew.
You lovers, for whose sake the lesser sun
At this time to the Goat is run
To fetch new lust, and give it you,
Enjoy your summer all;
Since she enjoys her long night's festival,
Let me prepare towards her, and let me call
This hour her vigil, and her eve, since this
Both the year's, and the day's deep midnight is.
I lead a writing class at the Hearth, in Horsley. Writers of all levels of experience are very welcome. The new series of classes starts on Thursday 10th of January 2019.  We meet each week between 6pm and 8pm. If you'd like further details email me on tonyglover11@mac.com
Drop in to any session and meet the other writers – we're a friendly bunch!
The Footsteps of the Hunter is now available through Cheshire Cat Books.
https://cheshirecatbooks.com
The opening of Footsteps of the Hunter – the new Kitty Lockwood novel.
A strand of spider web blows in the breeze, curling like a soft whip.
Hitting a rise, the bike lifts off, spokes spinning above the carpet of pine needles that cover the forest floor.
Two miles done. Three to go.
The wind hisses through the treetops. He hits a steady rhythm, heart and lungs working together. Serotonin and dopamine kick in, taking him to the happy place. His feet lift at each stride, light as air. Cares fade away as he weaves between the trees.
Ahead of him a branch creaks and a shadow swings between the pines.
The first thing Trevor sees is the feet. Purple, bloated flesh turning and swaying into his path. He rears back and the bike tumbles. His face hits the earth, left cheek nicked by a spur of tree root. Blood splashes his arm, runs down his skin and falls from his fingertips.
Trevor untangles himself from the bike and feels for the cut. Above him, the body twists on a length of thin blue twine. The man is naked. A man aged around thirty, Trevor guesses. The head is hunched over the shoulders. He forces himself to look at the face. Blowflies crawl between the stretched lips. The flesh is mottled, white and a shade of ripe mulberry. The cheeks are marked by scratches –  claw marks, perhaps. Trevor struggles to his feet, holding out his hand just at the moment the wind pushes the body towards him. His fingertips brush the flesh.
'Fuck!' Trevor falls against a tree trunk. Sweat slips down his brow. He fumbles in the pouch strapped to his wrist, finds his phone and turns to make the call. The body twists at the edge of his vision.
'Which service please?'
'There's a man. Hanging. He's hanging from a tree.'
'OK, sir. Is he breathing?'
'He's dead.' Trevor bites his lip. He steals another glance at the body. 'Nope. He's topped himself. Definitely dead.'
'Can you give me your name please, sir? And the number you're calling from?'
Trevor gives the number. He bites his lip, anxious that he might laugh.
'What's your name, sir?'
'Speed. Trevor Speed. Trevor Charles Speed.'
'Thank you. Is it OK if I call you Trevor?'
'Yes. Of course.' 'Thank you, Trevor. Now if you can just give me the address we'll have someone with you as soon as possible.'
'Address?'  Now the nervous laughter does spill out. 'Tricky.'
'As soon as you do that, Trevor, we'll send someone to you.'
'I'm on my bike. In the woods. There isn't an address.'
'Which wood, Trevor?'
'It's a forest. It's Kielder forest. It's fucking huge!' *
I'm very chuffed that  Cars Just Want to be Rust  has been chosen as the subject for the very first book club session at the marvellous Thought Foundation in Birtley. You should soon be able to find details on the Thought Foundation website.
http://www.thoughtfoundation.co.uk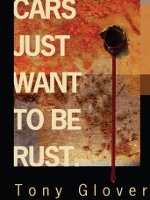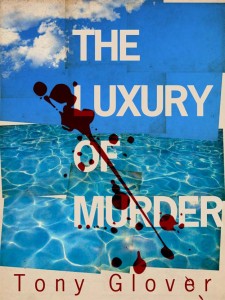 Tony Glover is a writer and film-maker, born in Northumberland.
He has  published two crime novels, Cars Just Want to be Rust and The Luxury of Murder.
The third book in the Kitty Lockwood series,  Footsteps of the Hunter,  is published in 2018.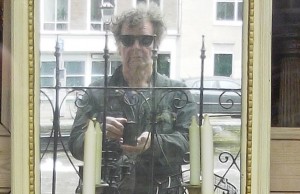 His radio play, Just a Trim, won a Sony
Radio Award and earned Tony the title of BBC North Playwright of the Year.
In 2007 he won the Northern Echo New Novelist of the Year award.
Irene's Story, a film about bi-polar disorder, won a Millenium Award.
His film Posh Monkeys won a Royal Television Society award and was promoted by the British Council at the Angers, Munich, BAFTA, BP Expo and New York film festivals.
His stage plays include Chase Me I'm Chocolate, Slappers (staged at the Unity Theatre Liverpool) and The Stars that Surround Us (staged by Cloud Nine Theatre Company at Newcastle Playhouse). Sticky Fingers won the People's Play award and was staged at the People's Theatre.
Year of the Tiger was filmed by Wildcat Films for Yorkshire Tyne Tees.
I Want My Baby, devised and produced with young people from Greenfield Arts Centre in Newton Aycliffe, recently won an Impetus Award.
Tony was a visiting lecturer at the University of Northumbria from 2009. He has taught a variety of courses both undergraduate and MA.  He currently teaches Creative Writing at the Hearth Arts Centre in Horsley, Northumberland.